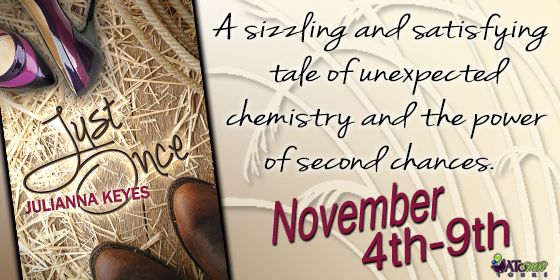 Synopsis:
Kate Burke is done making bad decisions. Thirty years old and belatedly determined to grow up, the successful travel writer and one-time party girl returns to work at the remote Ponderosa Pines Ranch to reassess her life.
Although her kitchen/cabin staff is lacking and the workload never relents, Kate's main challenge is Shane Maddox, the ruggedly handsome and doggedly stubborn ranch foreman. Instantly at odds, they battle over everything from ceiling fans to bothersome bats—studiously ignoring the sparks they generate with each confrontation.
They can't explain their explosive physical chemistry, but after a few frustrated weeks they can't deny it either. Their solution? Just once. They'll get past their inconvenient lust and move on.
Kate's been trying to think with her head instead of her hormones, but is this just another bad decision in a lifetime of careless choices? Has she really changed at all?
Set in the striking and serene hills of southern Colorado, Julianna Keyes' debut novel offers a sizzling and satisfying tale of unexpected chemistry and the power of second chances. Her characters will get under your skin and into your heart. Just once may not be enough for you either.
Buy Just Once on Amazon
Author Bio:
Julianna Keyes is a Canadian writer who has lived on both coasts and several places in between. She's been skydiving, bungee jumping, and white water rafting, but nothing thrills—or terrifies—her as much as the blank page. She has volunteered in Zambia, taught English in China, and dreams of seeing pink dolphins in the Amazon. This is her first book.
Social Media Links:
The Author's Favorite Quotes from Just Once
Quote One
"What the hell are you doing?" Shane asks, appearing from nowhere. I nearly jump out of my skin.
"What are you talking about?"
He looks from my face to the frying pan to the dented, listing garbage can. "I came to see what the banging was and find you taking out your rage in an unhealthy way."
I like this moment because it shows Shane as he is—straight forward, no-nonsense, and impossible to read. I think this line is funny, but does he? We'll never know.
Quote Two
"Get out of the way!" I hiss at Shane, first pushing uselessly at his shoulder then giving up and pulling him inside by his forearm. Why he wouldn't let me push him away but lets me pull him in is a question for another time.
I chose this quote because it's a great example of Kate's ability to read the otherwise-unreadable Shane. He may be a man of few words but his actions—or inaction—speak volumes, and Kate's shrewd enough to read between the lines, even if she doesn't know how she feels about what she finds there.
Quote Three
He's wearing black boxer briefs that strain against his hips, and again I wonder why I never found men with muscles that sexy before. I mean, this man is pure physical perfection, and if he didn't hate me so much, he'd be ideal.
I like this quote because it gives a great sense of Kate's self awareness and dry sense of humour. She's not moping or cowering in the face of his anger, and she's constantly perplexed by their inexplicable chemistry.
Quote Four
When the contractions have ceased, I open my eyes to find him watching me. "What are you doing to me?" I whisper.
He smiles and leans in to kiss me, his tongue tracing my lips. "Anything and everything."
This is a great quote from what is supposed to be their one and only time together. Kate's been around the block and can't figure out how Shane can still manage to surprise her, and Shane's determined to make the most of his limited opportunity. The fact that he thinks he's in control of anything is amusing.
a Rafflecopter giveaway