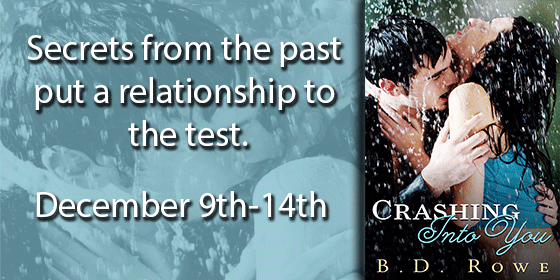 Blurb:
New Adult Contemporary Romance
Bookish college sophomore Sydney Baker wants Evan Taylor with every ounce of her being. The hottest stud on campus, Evan is six foot four, ripped, stacked with muscles. He's even easy to talk to.
There's just one problem: he's her roommate Melanie's boyfriend.
But when Melanie tragically dies after a night of wild partying, Sydney and Evan turn to each other in a time of intense grief. And it doesn't take long for their close friendship to blossom into something more.
Unfortunately for Sydney, secrets from the past soon put her relationship with Evan to the test. Especially when a sexy blonde freshman makes her way into Evan's life, and tries to rip away everything Sydney holds close to her heart.

**Mature Situations and Sexual Content - Recommended for Ages 17+**
About the Author:
B.D. Rowe is a Sacramento native with a penchant for crafting tales of romance, mystery, and intrigue. Crashing Into You is B.D. Rowe's New Adult debut.
Author Interview:

Q: When did you first realize you wanted to be a writer?
Rowe: I realized I wanted to be a writer when I was very young, around seven years old. I found myself reading more books than I was ever doing homework. I got lost in all kinds of stories—love stories, mysteries, thrillers, even some adult fiction I snatched from my mom's bookshelf. I have been an avid reader my whole life, and it was a blast to finally write my first book!
Q: Did you have a routine?
Rowe: With Crashing Into You, I wrote 2,200 words a day, every day, until the first draft was done. I don't know where I got that figure, but that's just how it worked out. It took me a little over a month to complete the first draft, back in April 2013, and then I spent the next six months revising the manuscript, in which I added three new chapters, deleted two chapters, and created a brand new central character in the second draft. In August I sent the book to a copyeditor and we worked together for about six weeks on all aspects of the manuscript, until the book finally came out in October.

Q: Where did you get the idea of Crashing Into You?
Rowe: When I attended Loyola Marymount University, somebody told me a spooky story, apparently true, about a student who really did die from alcohol poisoning while in her top bunk, and her roommate didn't find her for three whole days. This story stuck with me for years, and I always intended on writing a book that had this happen as a plot element. When I decided to embark on my first New Adult novel, I knew I wanted to have this be a part of it. Ultimately, as much as the book is about romance, it's really about tragedy, and how we all try to get through it.

Q: What books have most influenced you?
Rowe: I love all kinds of books, but lately I've been reading mostly young adult and new adult fiction. I adored Falling Into You (which inspired the title for my book), as well as Beautiful Disaster and The Edge of Never. I just got into Simone Elkeles's Perfect Chemistry trilogy, which I am devouring like crazy. Of course, I also love the classics like the Harry Potter series, To Kill a Mockingbird, and The Cather in the Rye.
Q: What do you like to do when you are not writing?
Rowe: When I am not writing, I like to do all kinds of things. I like to go to movies and the theatre. I love taking long walks outside, especially late evening in the summer. I love to hike, bike, and jog. And I enjoy baking cupcakes and cheesecakes, sometimes at the same time!
Q: Any future writing news?
Rowe: I have recently completed a novella called ELEVATOR HEAT, which includes a minor character from Crashing Into You. Look for it on Amazon in the coming days!
a Rafflecopter giveaway